Experienced, Local Commercial Roofers
Commercial roofs are typically flat or low-sloped. Flat roofs come with their own set of requirements – from installation to maintenance. So, it's important to work with a roofing contractor who has extensive experience in the installation, repairs and replacement of these systems.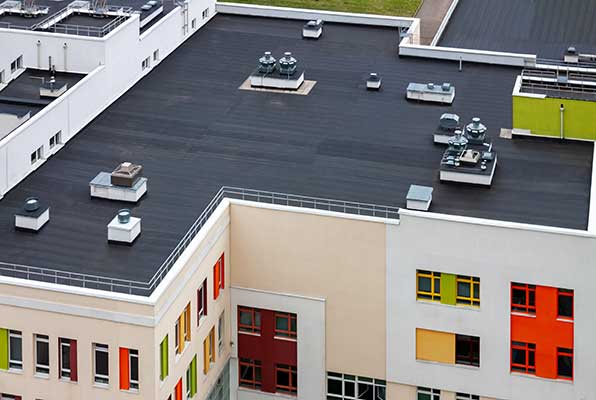 At Alpha Roofing, LLC, we have been the go-to roofers in the Evanston, WY, area for a long time. We believe in supplying timely responses to any inquiry and addressing any questions or concerns that you may have. Trust us with your next roofing project!
Signs of a Failing Commercial Roof
Investing in a roofing project can take a lot of a company's budget. Yet, roofs do the important job of protecting you and your property, inventory and employees from the exterior elements. If your roof is failing, you have to take steps to repair or replace. These are some signs that your flat roof is failing.
Moisture damage: Dark spots on the ceiling and high humidity levels in your property are indications that you have an active leak – potentially coming through the roof.
Bubbles forming on the roof: If moisture is building up under the top layer of your flat roofing system, then it's a sign that you at least need to repair your system.
Sagging: Any sign of sagging should be addressed immediately to prevent roof collapse.
Increase in energy bills: If there are gaps or holes in your roof, the HVAC system will have to work harder to keep the indoors comfortable.
Schedule regular inspections and maintenance with Alpha Roofing, LLC. Contact us today to learn more!
Schedule Your Free Estimate Today!
When you need qualified commercial roofers to take care of your property, contact Alpha Roofing, LLC. No job is too big or too small for us. Call us at (307) 679-8558, or fill out our convenient online contact form to get started.